Vibrators: A brief history of women's cure-all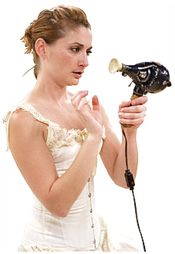 Along with the light bulb, the advent of electricity in the late 1800's brought about so many new inventions formulated on the fertile soil of creative imaginations. This flood of ingenious devices ushered in new ideas for conveniences from every profession, including doctors, who concocted all sorts of electrically driven machines and gadgets. One such gadget continues to evolve over one hundred years later. It is the vibrator.
The concept, accidentally created like many "brilliant" inventions, was for a mechanized massage apparatus to stimulate the scalp, thus inducing hair growth for balding men. Of course, being of the Victorian era, it was rather ironic how quickly this device was augmented for use as a medical instrument, treating women of the day for their various symptoms and illnesses.
As most medical doctors believed at the time, a woman's reproductive system was the root cause of a condition they named, "hysteria". Symptoms of the medically deemed, "hysterical paroxysms" included almost every natural anatomical reaction of the female human body, including, but not limited to, nervousness, fainting spells (strangely, the learned doctors never thought to blame this particular symptom on tightly laced corsets that were worn for 8-10 hours a day), insomnia, abdominal pains (usually these were just the standard menstrual cycle cramps or again, maybe the tight corsets?), excessive vaginal secretions, insufficient vaginal secretions, and so on and so on. The common thought was that the build up of unreleased "female semen" during orgasms would decay and grow toxic in the bloodstream. The prescription written for married women for this "hysteria" was to release the "female semen" by having more sex with her husband.
However, the prescription for the unmarried women, widows and "spinsters" was visits to the doctor who performed a clinical massage of the clitoris by hand to release the "female semen". Obviously, this was an embarrassing and often tiresome task, until the electric "massager" came along. Soon, every well equipped gynecological office and woman's health clinic had electric powered vibrating devices designed exclusively for stimulation of female genitals. Once the word was out about this great new, electrically assisted "cure", the ladies lined up for their monthly "treatment".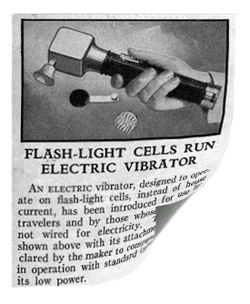 By early 1900's a battery powered vibrator was invented, and the rest, as they say, is history! More and more physicians developed contraptions intended to serve as vibrators. Articles and textbooks on vibratory massage technique praised the machine's versatility for treating nearly all diseases in both sexes and saving physicians time and labor (achieving an orgasm by "hand" often took the physician an hour, whereas with the vibrator it was only 10 minutes!).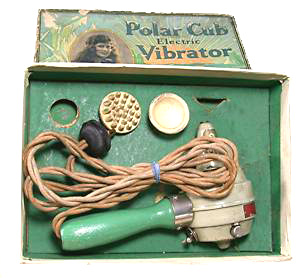 1920's "Home Version" Electric Vibrator
[note: still called a "vibrator" at this point, not "massager"]
Then, with the development of "home versions" (originally designed by physicians for "house calls") of the vibrators, advertisements began to appear in magazines like Needlecraft, Woman's Home Companion, Modern Priscilla and in the Sears & Roebuck catalog, with tag lines like: "...all the pleasures of youth will throb within you!"
But by the late 1920's, advertising of vibrators for personal use ceased thanks, in part, to their new use as a "prop" in the new burgeoning realm of stag films. By this time, physicians (and their patients' husbands) finally realized that a forced orgasm was not a "cure all", so the vibrator's era as a medical appliance waned into the decades of hidden and secretive personal erotic vibrator usage. For nearly forty years thereafter, electric vibrators thrived "under cover" as massage tools or physical therapy devices.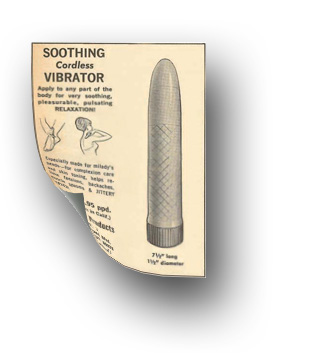 Then, in the early 60's, it re-emerged as a sex-aid toy sold in Adult Toy Shops as a "novelty" item. For the last thirty to forty years, since then, the vibrator has evolved and grown to mind boggling variations, from its earlier, poorer quality battery operated hand held phallic designs to the current day sophisticated remote control devices with multiple attachments.


In 2010, vibrators are now considered mainstream, discussed, demonstrated and advertised freely in the media. It seems like there isn't a television series that hasn't at least mentioned the name of vibrators, like the "Rabbit" or the "Magic Wand". Virginia Slims Cigarettes' 1968 ad campaign stated, "We've come a long way, Baby!" and now, over forty years later, that statement holds truth for the vibrator (in more ways than one!).
---
Fertility Festivals of Japan honor Penis and Vaginas
Hoenen Matsuri is Japanese for "Harvest Festival" which is a fertility festival celebrated every year on March 15 in Japan. The Hōnen festival and ceremony celebrate the blessings of a bountiful harvest and all manner of prosperity and fertility.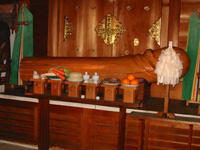 The best known of these festivals takes place in the town of Komaki, just north of Nagoya City. The festival's main features are Shinto priests playing musical instruments, a parade of ceremonially garbed participants, all-you-can-drink sake, and a 280 kg (620 pound), 2.5 meter (96 inch)-long wooden phallus.

The giant wooden penis is carried from a shrine called Shinmei Sha (in even-numbered years) on a large hill or from Kumano-sha Shrine (in odd-numbered years), to a shrine called Tagata Jinja.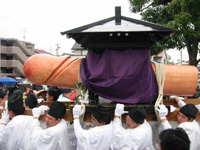 The festival starts with celebration and preparation at 10:00 a.m. at Tagata Jinja, where all sorts of foods and souvenirs (mostly phallus-shaped or related) are sold. Sake is also passed out freely from large wooden barrels. At about 2:00 p.m. everyone gathers at Shinmei Sha for the start of the procession. Shinto priests say prayers and impart blessings on the participants and mikoshi, as well as on the large wooden phallus, which are to be carried along the parade route.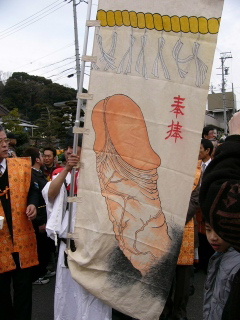 When the procession makes its way down to Tagata Jinja the phallus in its mikoshi is spun furiously before it is set down and more prayers are said. Everyone then gathers in the square outside Tagata Jinja and waits for the mochi nage, at which time the crowd is showered with small rice cakes which are thrown down by the officials from raised platforms.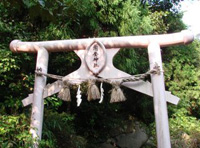 The Torii Shrine gate above displays the ends of the crosspiece are penis shaped shaped and in the center is a vagina with open legs.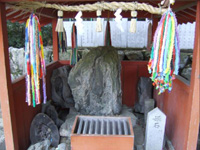 Hoto Shrine (above) Hoto is an old Japanese word for vagina. The basis of the shrine is in the most famous of all Japanese myths, the story of Iwato, when Amaterasu, the Sun Goddess, hid herself away in a cave.
All the other Gods gathered outside the cave trying to get her to come back out and bring light to the world but to no avail, until a Goddess named Uzume performed a shamanic dance which culminated with her exposing her genitals. At this all the other Gods roared with laughter, which stirred Amaterasu's curiosity, so she peeked out of the cave to see what the commotion was about and the Gods grabbed her and pulled her back out into the world.

So, according to the myth, we owe the world of light and life as we know it, to the vagina.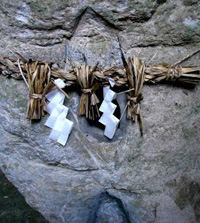 Above, another "rock vagina" that has become a shrine. Near this shrine is a Penis shrine said to have special qualities for curing Penile Dysfunction.
---






In several regions of the African nation of Cameroon, parents try to keep maturing daughters off the market by "ironing" their breasts (pressing them with heated stones and leaves to make them flatter and the girls thus less desirable for sex). The practice reached world media (and News of the Weird) in 2006 as part of a condemnation campaign by the United Nations, but apparently it continues unabated, according to new videos circulated this year and described in The Washington Post in March. According to that writer, who interviewed numerous health officials in Cameroon, the practice apparently has little effect, in that the teenage pregnancy rate remains very high. [Washington Post, 3-4-10]




In Cincinnati in August, Colondra Hamilton, 32, was arrested after a routine traffic stop. Officers said they found Hamilton with her pants unbuttoned, a sex toy in her lap, and a computer playing a video in the passenger seat. [WCPO-TV (Cincinnati), 8-24-10]
---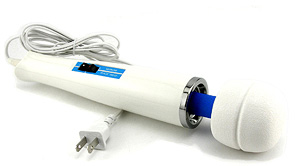 click for larger image
Magic Wand Vibrator
For over 30 years, the Hitachi Magic Wand has set the standard for personal hand-held massagers and vibrators. The soft spherical head gives a soothing massage, operated by a two speed switch located on the Wand's slender handle.

Unlike cordless style massagers and vibrators, the Magic Wand's strong electric motor is powered using a standard electric cord and plug, providing a constant power source for those extended sessions. It has, by far, the strongest vibrations and because it plugs into the wall, you don't have to worry that it will die out just when you need it most!



Find all sorts of imaginative attachments for this powerful, versatile vibrator here!



Specifications: It measures 12" long x 2-½" wide and uses standard U.S. 110v Socket (not for sale outside of USA)


Magic Wand Vibrator
Item #340-2010
Price: $69.95