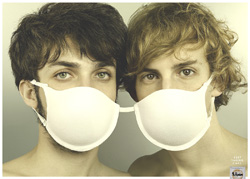 Focus on "SAFE" in Safe, Sane and Consensual

They are one of the least expensive items in your toy bag or clinic's medicine cabinet, yet the condom is probably your most valuable!

Not only do they protect against many sexually transmitted diseases (aka: STD's), they also carry a 99% pregnancy prevention rate! Other kudos for condoms are their anti-microbial properties when used on insertable toys of all materials and types, with the side bonus of adding longevity to your dildos, vibrators and butt plugs, etc.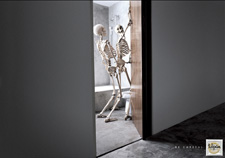 For those who tend to overlook the use of condoms, read this loud and clear: USE THEM! They are important and absolutely necessary, even for "fluid bonded relationships" who feel safe. They can prevent a myriad of viral and bacterial outbreaks.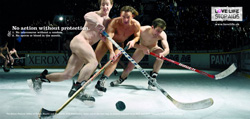 Swiss Government's "No Action without protection" Condom Campaign

Need some statistics?

1 in 4 teenage girls (between the ages of 14-19) is infected with at least one of the most common STDs: human papilloma virus (HPV), chlamydia, herpes simplex virus, and trichomoniasis
19 million STDs are contracted
750,000 unintended pregnancies occur
global warming slows with less population growth by making free condoms and family planning advice more widely available Source: U.N. Population Fund
56,300 new HIV infections are reported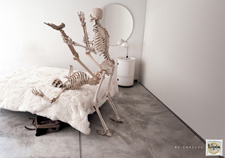 A few tips for Safe Condom Usage


• Use only one condom at a time. Extra friction caused by "double condoms" will result in breakage.


• Always keep condoms handy, but store them in a cool, dry place that is out of direct sunlight. Do not use a condom after its expirations date or if it has been damaged in any way.

• Hold the tip of the condom and unroll the condom all the way down the erect penis--the rolled rim should be on the outside. Leave space at the tip of the condom for semen, but make sure that no air is trapped in the condom's tip.

• If friction develops while using the condom use a water-based
lubricant
on the outside of the condom. Do not use petroleum jelly, cold cream, hand lotion, cooking oil, or baby oil as these products will break down and weaken the condom.
• If the condom breaks during sex, withdraw from your partner and put on a new condom.
• Withdraw from your partner while the penis is still erect, holding the condom firmly at the base of the penis, to prevent any semen "spillage".
• Wrap the condom in a tissue and throw it in the trash where others won't handle it. Never re-use a condom.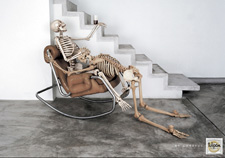 For more information on condoms or preventing HIV infection, contact:
CDC National AIDS Hotline: 1-800-342-AIDS
Spanish Service: 1-800-344-7432
TTY Service for the Deaf: 1-800-243-7889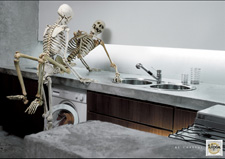 Ad art (Skeletons and Bra) are by artist Guillermo Vega for Tulipan Condoms of Argentina.
---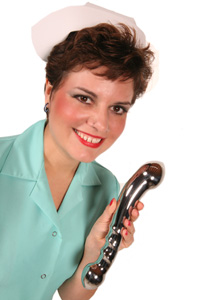 Meet Nurse Mona!

Once again, lucky stars have fallen on the MedicalToys.com nursing staff! This twinkling star of a nurse, literally landed here out of the blue!


Her devotion, passion and dedication to the world of fetish, drew her to us like an electron magnet after she discovered us through the various kink sites she loves, like Fetlife.com.



Nurse Mona finished her bachelor degree in fine arts, which lends greatly to her unique creativity and artistic approach to the BDSM and fetish scene! With an artist's eye, she conjures up ways to use most of our medical fetish toys and gear in ways most would never dream up!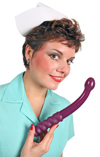 Some of her favorites are the Prostate and CBT toys... she said it reminds of working with clay: being able to twist and roll and squeeze and slap around the penis and balls of her grateful albeit very sore patients! Oh... what a devious Dali [Salvatore Dali, famous artist] our Nurse Mona can be!



Whether it's having fun in the clinic, "handling" the customers on the customer service desk or adding new ideas, this shining star and her bright smile light up our life at MedicalToys.com.

Follow Nurse Mona

on Twitter at

http://twitter.com/

Nurse_Mona




---





What's a fair price for a penis?

- A court ordered a Romanian surgeon to pay $795,000 in compensation to a patient whose penis he accidentally severed during an operation. In July 2004, Dr. Naum Ciomu made a surgical error while operating on the man's testicles, severing the penis instead of making an incision to the testicle.

The Bucharest Magistrates Court ruled that Ciomu had been "superficial" in his approach to the operation, ordered the fine and handed Ciomu a one-year suspended prison sentence. The ruling can be appealed.

A piece of muscle from the man's arm has now been attached to where his penis was, but its function is aesthetic."You don't have to be an expert to realize that the 33-year-old victim does not have a good state of mind," said Mihai Olariu, the victim's lawyer.




Sphincter muscle attached to the thigh bone? -

A German retiree is taking a hospital to court after she went in for a leg operation and got a new anus instead. The woman woke up to find she had been mixed up with another patient that suffered from incontinence who was to have surgery on her sphincter.

The clinic in Hochfranken, Bavaria, has since suspended the surgical team. Now the woman is planning to sue the hospital. She still needs the leg operation and is searching for another hospital to do it.

MTC editorial: It's really scary when a Doctor doesn't know an ass from an elbow... nor a leg, for that matter!


Most Pierced & Former Nurse -In early 2009, Guinness World Records certified that Brazilian-born nurse Elaine Davidson sported 6,005 piercings, including 1,500 that are internal.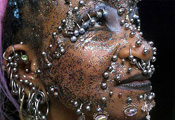 The Brazilian-born nurse earned the "Most Heavily Pierced" title in 2000, when she had a mere 462 pieces of hardware on her body, 192 just on her face.
She has more piercings in her
genitalia
than in any other part of the body - 500 in all, externally and internally.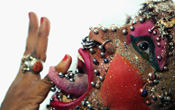 In March 2010, Elaine reported a total of 6,725 piercings.
Here are some photos of the entertainer, who now lives in Edinburgh, Scotland.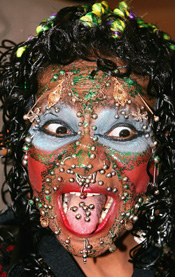 MTC editorial: Guess she had so much fun sticking her patients with needles when she was a nurse, she decided to do herself... over and over and over...
---
This is the OMG of Strapless Dildoes!
Big, thick and such a rippling pleasure!!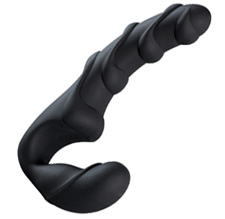 Share Alot More
"Strapless" Larger Dildo

Need some more girth and bump action? The fine engineers of "Share" have designed a bigger, "bumpier" version: Share Alot More! This is the most innovative double ended, strap-on alternative. Made of body-safe medical grade silicone.
Just insert the shorter bulbous end into the vagina and receive direct G-spot sensation while penetrating your partner with the long, thick, rippled dong end. The extra ledge area in the center massages the clitoris. It is just the ultimate in deep, full penetration for her to use on her... or her to use on him!

So versatile... it can be used with or without a strap-on harness!

Measures 7.6"l x 1.8"d and 3.4"l x 1.8"d

"Share Alot More"
Black Strapless Double Dildo
Item #340-4028
Price: $110.00