Cicero had played here and there, but he'd never been properly mummified. As per my instructions, Cicero had been limiting his solids (just soup and salad the last two days, with lots of water and juice) so that when it was time to mummify him, he'd be able to stay wrapped for a long time and float.

I had been preparing for weeks for our meeting. First I went shopping at Medicaltoys.com, where I acquired plenty of Ace bandages, gauze bandages and vet wrap. I also arranged for my friend Mona Blu to join me during the actual wrapping.

By the time we got home I couldn't wait to begin. My suitcase of mummification wrappings was filled to the brim and I wanted to see how much of it I could use on Cicero...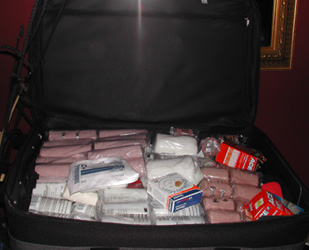 After strapping Cicero to my Bondage bed, I applied the first bandages to his head.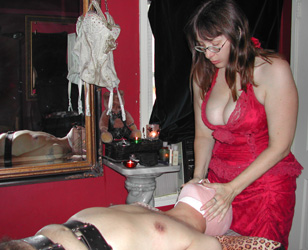 Mona Blu has the most beautiful nails and she put them to good use before the third strap was fastened.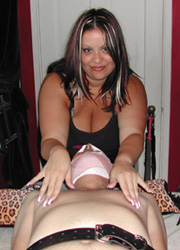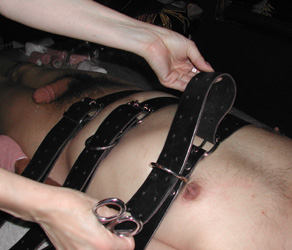 Next she applied big plastic clothespins to wake his nipples up.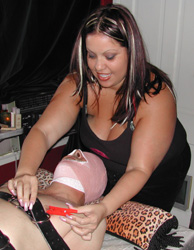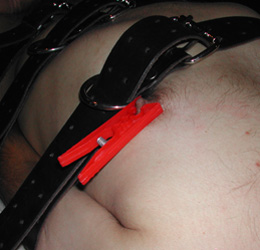 After a little breath control, it was time to begin mummifying his feet and to let Cicero
try out my present from the nice people at MedicalToys.com.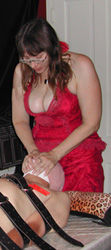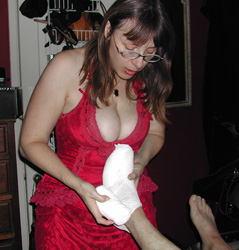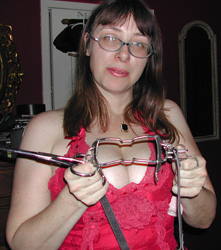 Once the feet were done, it was time to commence the more serious wrapping.
Luckily, I had lots of Ace bandages.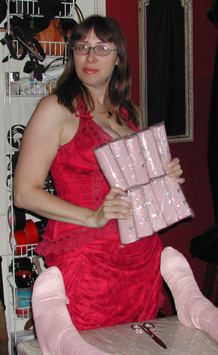 As I was instructing Mona Blu on the proper techniques, I decided to let her start with
the lower legs, and then begin to join the legs together.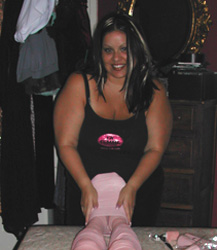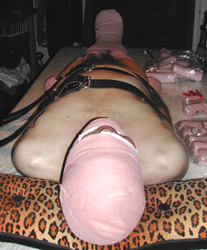 Once Cicero couldn't run away, we started wrapping his arms above the wrists and I explained
some of my mummification theories to Miss Blu.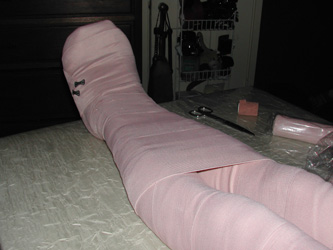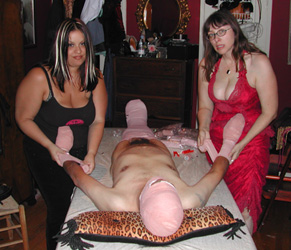 Miss Blu proved to be a natural. We worked together very well.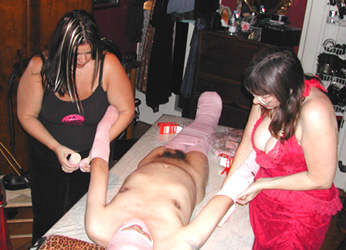 Things began to speed up, and before I knew it, two hours had flown by and
I was ready to apply the last bit of basic wrapping.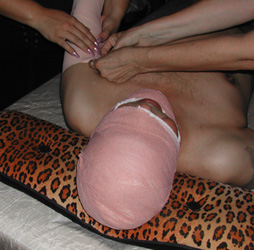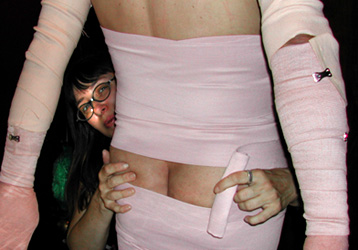 After he was wrapped, we stood him up to inspect our work. Cicero seemed pleased.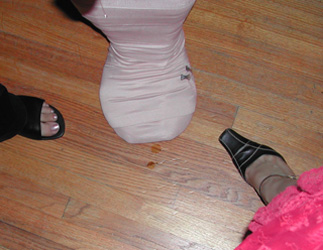 We continued on, it was now time to add the more constricting white layers of wrappings.
But first, Mona and I ran our fingernails down his back so he would be "sensitive" as well as helpless.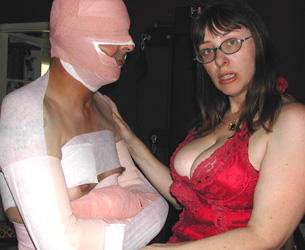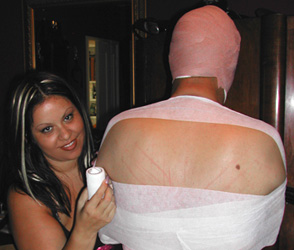 I was growing fonder of Cicero by the moment...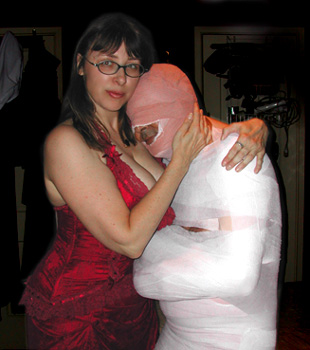 After our tender moment, Cicero was lowered to the bondage bed,
and we continued with his mummification.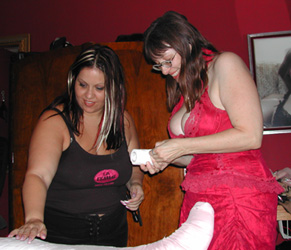 After three and one-half hours of endeavor, it was time to tie our mummy down.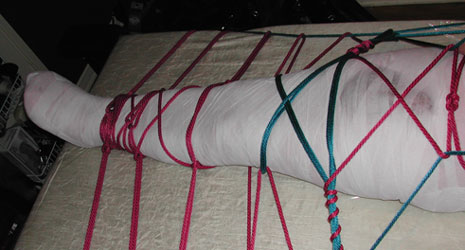 The ropes broke him in a little over an hour, I'm afraid. Moments later, my mummy was free,
and the only signs of his experience were a pile of wrappings on the floor.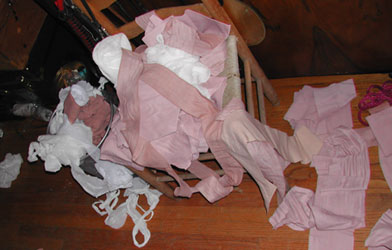 Lest you to think that Cicero was a wuss: after a brief rest, he then spent eight hours in my
Fetters black leather sleepsack before being returned to the airport early the next morning.
Truly one of my favorite mummies yet.
- Mistress Stephanie Locke -
email: msstephanielocke@aol.com
One thousand thanks to you, Mistress Stephanie Locke for this informative story and pictures...
we are so thrilled to see our products being put to good use! -NL
For more mummification information and products be sure to visit
our Medical Fetish Library and our MummificationProducts!

---
About Medical Fetish | Products Online Catalog | Gallery | Links | Ordering Info/Contact | Medical Fetish Library
Special Offer | Newsletter | Site Index | Home | eMail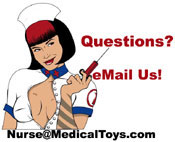 All rights reserved. MedicalToys.com© 1998-2007