Coffin maker Cofani Funebri has launched its own sexed-up calendar featuring goth-looking models cavorting, teasing and tempting (tempting what is the question!).

The photos here are from their alternative calendar for 2010. Women in black lace lingerie, PVC and latex outfits perched on the edge of coffins or posing provocatively near them, has sparked the interest of other coffin makers to do compete!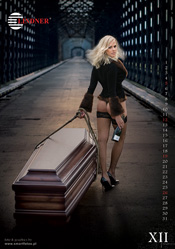 Poland's coffin manufacturer, Lindner, could not resist the challenge. "The idea for this calendar is mine." said Barthosz Lindner, managing director of Lindner.

"Although I admit that I was inspired by an Italian calendar. They are, a company that does the same thing, but I thought 'Well, our Polish girls are prettier, and our coffins are better. [December 2010 page,

left

] ... So we can do better.' I asked friends for help with photography and advertising. And I must admit that the effect is good. We've got lots of positive comments." However, it appears their 2010 calendar is and was the only one.

Meanwhile, the Rome-based undertakers continue to offer new calendars every year since they started the sexy pin-up datekeeper back in 2004! Their organized, tongue-in-cheek photos have given them worldwide recognition. Maurizio Matteucci, son of the Cofani Funebri funeral parlor owner, said: ... "In previous years our models were all normal girls, shop workers and friends of friends. "But this year [in 2009 for the 2010 calendar] we used professional models to find the kind of beautiful women we needed."

He added: "All of us have a different concept of death. For some people the calendar has shown people coffins are just an everyday object, but others might think it is in bad taste. But as a marketing strategy, I think our calendars have made us probably one of the most famous coffin factories in the world."

A few pages from the 2010 Coffin Calendar
(click on each for larger image)

This is the "About Us" from their website [with edited translation]:

Born in 1965, the company deals with the construction of sarcophagus, cinerary urns and handycraft-items of funeral art with cooperation of experienced art masters. The agency boasts a particular experience for what concerns the realization of funeral object.
The choice of hard wood, the refined carving and the originality of decorations are demonstration of our quality.

The owners, simple men of good will and talent have given, throughout the years, the opportunity to reach the fame of great prestige that has recently become the symbol of the company.
above
] they are just going all out for that
fame
!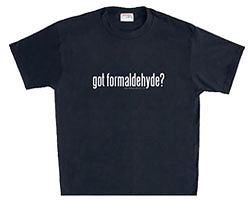 You can get that calendar along with previous years' calendars and some T-shirts, like the one
above
, and collectibles at their website http://cofanifunebri.com. And yes, they do have coffins!
---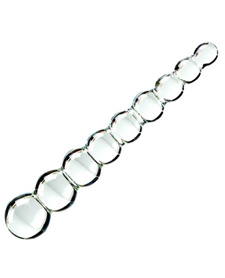 Glass Anal Beads




"The Bumpmeister"





"Abracadabra! ...I want to reach and grab ya!"

Thanks, Steve Miller! [video] With all of that magic flying around, this new glass "Bumpmeister" is a wand of magic of another sort! Watch this medical grade borosilicate glass dildo/dong as it disappears!!

A full 8.75" with row after row after row of round "bumps", each varying in size from approximately 1" up to 2.35" in diameter.

Nicknamed the "Bumpmeister" based on its
inevitable bumpy ride as it vanishes between the cheeks!

A - B - R - A - C - A - D - A - B - R - A
A - B - R - A - C - A - D - A - B - R
A - B - R - A - C - A - D - A - B
A - B - R - A - C - A - D - A
A - B - R - A - C - A - D
A - B - R - A - C - A
A - B - R - A - C
A - B - R - A
A - B - R
A - B
A

Run it under warm water or place it in the microwave to heat things up (but not too hot!!) or chill it under cold water or put it in the refrigerator for a cooler sensation. Since glass is nonporous, cleanup is a snap!

More glass insertable toys here!

Glass Anal Beads

"Bumpmeister"


Item #320-6005
Price: $42.00


---