Transamerican Penis

Felicity Huffman talks about Andy - her fake penis
Felicity Huffman had to be taught how to hold a penis for the new movie 'Transamerica'. The blonde actress, who plays a transsexual in the film, says she had no idea how to maneuver the phony phallus, which she nicknamed Andy.
She revealed: "I had to wear this water bottle under my arm and squeeze it. The whole thing was actually terrifying. In hindsight, it's very funny, as I had to take lessons in how to hold Andy the right way. I mean, how do you hold him properly when you pee? Which hand do you use?"
The 'Desperate Housewives' star admits she struggled to get used to having a penis but soon got emotionally attached to the fake appendage! She told Britain's Heat magazine: "When I first began wearing Andy, it was different, I have to say. And I know this sounds trite, but I understood why it's all guys think about. I put it in my girdle and it was all I thought about! It was sticking out and moving around. It was very odd."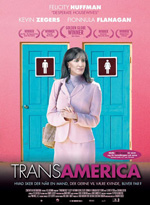 The DVD of the movie, Transamerica is due in mid-May 2006 and if you don't know anything about it, here's some info: In Transamerica, A female actor (Felicity Huffman) plays a man attempting to pass as a woman. And while the movie certainly generates its share of laughs, it's anything but a slapstick comedy. Huffman plays Bree, formerly known as Stanley, who has taken the hormones, had the lifts and tucks, and undergone the therapy she needs to become a "real" woman. Just a week away from her final, definitive surgery, she receives a call from an imprisoned teenager claiming to be Stanley's son. When her therapist forces her to deal with the situation, a reluctant Bree flies to New York City to bail out Toby (Kevin Zegers), a brash, insecure hustler who dreams of becoming a porn star. Before she knows it, she's driving Toby across the country, and the two slowly form a bond, even as Bree hides her true identity from the son determined to find his father. 'Transamerica' could easily have descended into farce, but first-time writer/director Duncan Tucker displays a veteran's touch with both the acting and the story, and the end result is a touching, honest, provocative movie about the joy and pain of discovering who you really are.
---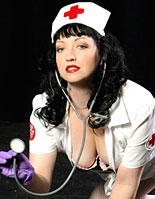 Violet Blue loves Medical Fetish! And in her book, "The Ultimate Guide to Sexual Fantasy: How to Turn Your Fantasies into Reality", she gives some great tips and definitely recommends MedicalToys.com for all of your medical fetish and fantasy needs!
Here's a snippet from her book: "...Patients in hospital scenarios will want to wear a hospital gown -- a garment likely invented by someone with a dirty mind. Of course, your ailment is probably sexual, and you may require relief treatment, or treatment suited to relieve your attendant..."
Violet Blue is a hardworking sex writer, editor, adult book and video reviewer and machine artist. She is currently hard at work on several books and have many bestsellers in print; by day she contributes at Fleshbot and several other blogs including Metroblogging: San Francisco. When not writing, she's a ten-year volunteer member of Survival Research Laboratories. They produce the most dangerous robotics shows on earth, and she does fabrication, mechanics, and production (including welding, forklift driving, carpentry and wiring).
Website: www.tinynibbles.com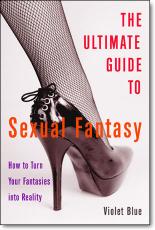 The following are excerpts from various American & British medical journals recorded in the Emergency Room and "Casualty" treatment center as they call them in Britain:

SEX EDUCATION

A Californian doctor examining a young woman with abdominal pains asked her if she was sexually active. She said that she wasn't. A later examination showed that she was pregnant. Asked why she said that she was not sexually active, the woman replied," 'cause I'm not, I just
lay there!". When asked if she knew who the father was, with a puzzled look she replied " No... Who is it?"

PRICKLY PAIR

In Michigan, a man came into the ER with lacerations to his penis. He complained that his wife had "a rat in her" and it bit him during sex. After an examination of his wife, if was revealed that she had a surgical needle left inside her after a recent hysterectomy.

LAST STAND

A man hobbled into the Casualty complaining of a permanent erection. He admitted to doctors that while on holiday in Cuba, he frequented many brothels, and in one he was given some erectile cream to keep him hard. He was told to use it sparingly. However, since he was having so much fun, he kept using more and more. By the time he came to hospital, all the blood vessels in his penis were swollen and his testicles had ballooned in size. Doctors could do nothing except prescribe painkillers, and told him that it would return to flaccidity in a few days. They also told him to enjoy his erection while it lasted, because it was most likely going to be his last.

JUICY LUCY

In Kentucky, a woman complained of a purple discharge from her vagina. She thought it might have something to do with the diaphragm that her doctor had recently given her. "I followed all the instructions to the letter," she told her doctor, "and used it with the jelly." When asked
which kind of jelly she had used, she replied, "grape."

CALL THE BUM SQUAD!

A World War II veteran came into a London clinic with a hemorrhoid problem. One painful pile would often hang down from the man's anus and he was in the habit of pushing it back up with an artillery shell. On this occasion, the shell got stuck. Doctors were going to remove it
but the man told them the shell was still live. So the hospital called in the army bomb disposal squad, who built a lead box around the man's anus to defuse the shell before it could be removed.

PENIS ENVY POODLE

A man in his mid-fifties did a "Loraina Bobbit" on himself in a drunken rage and ended up in the ER. The urologist thought that he could reattach the man's genitalia, if it could be recovered and if it was in good condition. The police were dispatched to the man's house and the search was on. During the search one of the officers heard a choking sound coming from the man's poodle that was sitting in the corner. After a brief fight the officer was able to retrieve the man's jewels from the dog's mouth. Upon careful inspection of the remaining parts by the urologist, it was decided that the man would need to learn to pee while sitting. However, the officer was given a commendation from his precinct for medical assistance above and beyond the call of duty.
---
New Medical Toys: The SAMURAI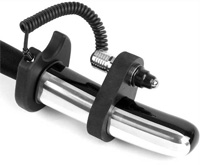 The latest addition to our very popular Erotic Electro-Stimulation devices is the SAMURAI! Designed for women to give maximum pleasure and "over the top" orgasms, this one-of-a-kind electro toy is made for ultimate satisfaction in performance!

The up-curve shape of the Samurai phallic is perfect for G-Spot stimulation while the unique adjustable vibrating pod unit sends rolling vibrations through the clitoris.

The Samurai is perfect for the gal who likes the full feeling of penetration with an added bonus of a pulsing throb, as well as direct clit vibrational tingling that'll end with some explosive orgasms... one user said she had so many powerful orgasms over and over again in one long session, that the next day she felt like she worked out at a gym with all of her sore muscles in her legs and abdomen! Yes! ... that's the way I'd like to work out!!

MedicalToys.com Samurai