Homage to our Japanese fans...
May we humbly bow in honor and respect to our dear "patients", "Nurses" and "Doctors" in Japan! Yoshi T. sends an email to express his "love" of the nurses at MedicalToys.com. And Hiro Y. says we are "ichi-ban" (number one)... They call it IRYOU FETCHI, Medical Fetish, and it, as well as Nurse Fetish, is an absolute craze in Japan!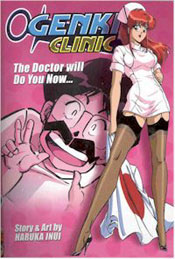 There are the relatively well-known anime Nurses, both nice and nasty and japanese medical fetish websites and magazines featuring nurses and medical fetish.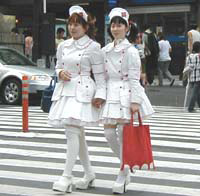 And take our word for it, our Japanese customers, fans and friends love to party! They hold Medical Fetish nights at local clubs and pubs and they really get into it!
Recently, we discovered a website with a photo layout from one of these great little parties. As you will see, one of the main factors is the costume...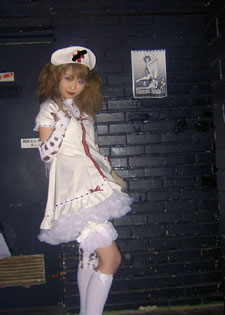 ...lots of frills, lots of "blood" stained bandages...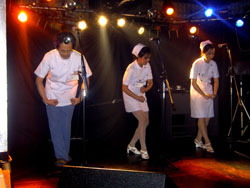 ...karaoke with a medical twist... ( we love the Doc... Ben Casey, eat your heart out!)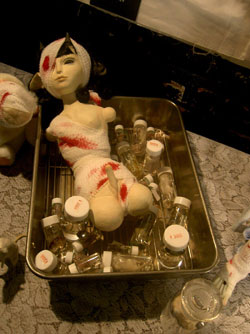 ...some Medical Fetish fine art du jour... in honor of the ever wonderful photo work of Romain Slocombe called the "Broken Dolls"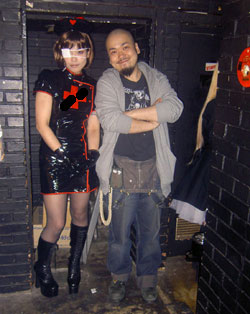 She's the artist of the "sick doll" above...
Along with the "dressing up" part of these Medical Fetish Parties in Japan, there is music and dancing, like a bar or club atmosphere gone kinky medical for the night! The majority of these party goers are actually only college-age. Thus it appears that drinking and dancing and dress up is about as far as it goes...
Fetishist Banned From Hospitals
LONDON (Reuters) - A man with a fetish for medical items has become the first person to be banned from every hospital in England and Wales, the
NHS says.
Unemployed Norman Hutchins, 53, has harassed and abused medical staff more than 40 times since January in his quest for surgical masks and
gowns, a court in York was told.
The court banned him from all private and NHS hospitals and doctors' and dentists' offices.
Hutchins tried to obtain medical items by feigning illness, or claiming to need them for a fancy dress run or an amateur play, the Times reported on
Wednesday.
"(He has) caused harassment, alarm and distress to NHS staff when attempting to obtain gowns and surgical masks in person or on the phone," an
NHS spokesman said in a statement.
More than 30 local health organisations banned him with civil injunctions, but Hutchins kept moving to new areas.
Hutchins' lawyer Harry Bayman said his client "was not a well man", but accepted the court's decision.
If he needs medical treatment, Hutchins will be allowed to visit hospitals or doctors under strictly controlled conditions or with prior written consent.
Note: They call him a fetishist, but he sure sounds like an obsessive compulsionist to us! -NL



---
The Retractor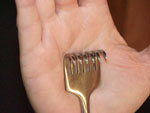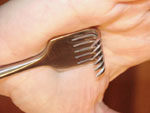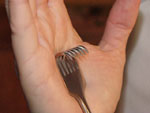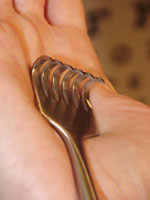 Medical Dictionary says: "A surgical instrument for holding back tissue which would otherwise obscure the surgeon's view."
Hmmm... we have a few other ideas for that, Doc!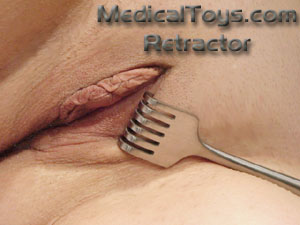 Peek-a-boo!

Get one or two... the more the meaner!
MedicalToys.com Retractor
---
Japan... continued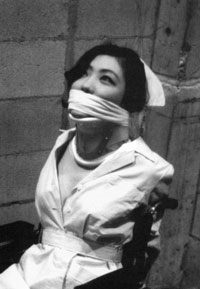 There is, however, a very strong contingency of "private medical fetish players", who, due to their status in society, have their Medical Fetish scenes behind the scenes, as it were! They are doctors, lawyers, dignitaries and officials and the like who cannot afford to be photographed or spied at a local trendy Medical Fetish gig. Their medical fetish gets real... some of the scenes are very edgy and often, a lot more than the average squeamish individual can handle!
Japanese rope play, shibari, for example, is usually with a very abrasive jute-type or hemp material tied extremely tight, fashioned in ritualistic patterns of knots and wrappings. This same wrapping concept carries over into the medical fetish, with gauze used to wrap entire limbs so that they are immovable. The quintessential eye-patch and maybe a nose hook added as the finishing touch in this Japanese style mummification.
Our whitehead gags are extremely popular in Japanese Medical BDSM role play. Tightly strapped into place, the "patient" is left drooling for very long extended periods of time, while most likely bound by rope to a chair or hanging from suspension!
There is so much information on the internet regarding all sorts of Japanese BDSM, Medical Fetish and Nurse Fetish... if you have not already found it, start looking! And enjoy...
We now bow gracefully with respect and whisper, "Domo arigato".