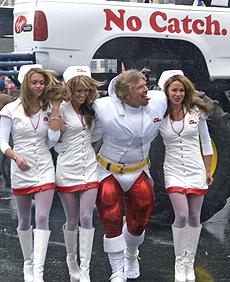 Richard Branson... the Medical Fetishist?
This article about Richard Branson's promotion of his new cellular service for Canada was both a huge hit and a bit of a controversy, so if you didn't see it on TV or read or hear about, we've got some clips and pics for you...
"Sir Richard Branson, chairman of Virgin Group and founder of the newly launched Virgin Mobile Canada, could've been mistaken for a Hollywood North action scene: Dressed in red tights and padded with faux muscle, Branson flew down a zip wire from the top of a sky-high LCD display, red smoke billowing from his boots. While the popular dance tune 'Call Me' blared from several speakers in Dundas Square in downtown Toronto, Branson then climbed aboard a monster truck that crushed the competition by driving over three cars labeled High Rates, Completely Confusing Mobile Service Contract and Hidden Fees. And what's a Virgin launch without beautiful women? Branson then 'freed customers chained in by long-term contracts' by ripping the chains off three statuesque models dressed up as nurses..."
That was from the Digital Journal by David Silverberg and if that doesn't sound very fetishy, we'll eat our stethoscopes!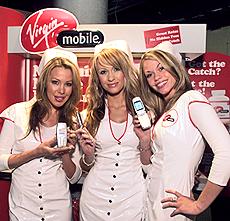 ---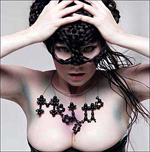 HAPPY NURSE lyrics
by Bjork
After watching this ???? lady
I noticed that she was a poor nurse
She knows exactly what people need
Without them having to tell her
She's a poor nurse
She knows what you hunger for
And feeds it to you

The Nurse was also my friend
She gave me friendship in abundance
Smothered me with hugs and kisses
I've got used to her injection
And they often send me stupid
It could become a habit
She gave me friendship in abundance
Smothered me with hugs and kisses

She invites me to a soft room
And hands me a piece of confidence
She injects me with a dose of warmth
It dawns upon me that humans are the only drug

She's a poor nurse
She knows what you hunger for
And feeds it to you

But then I bought myself a
Small rubber dingy when she told me
He who was up a mountain (??)
Because she wanted everyone
To give her
Love and affection
Her breast was
Great and soft
Incredibly great,
Great and soft
And could squirt
A long way!
A great distance...

She's a poor nurse
This careless woman
Don't hate her
She's a poor nurse
She knows what you
Hunger for
And feeds it to you
She's a poor nurse
This careless woman
Don't hate her
She's a poor nurse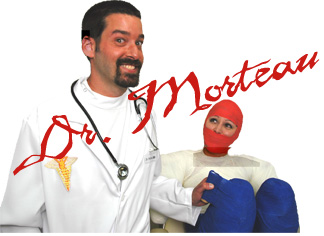 Dr. Morteau...
We'd like to welcome our newest member of the Medical Toys team! Born into a family of medical practitioners on a small island near the Philippines, Dr. Morteau found himself orphaned at the age of eight when his parents fell victim to civil war. He was taken in by an aboriginal tribe, and was more or less adopted by the local Medicine Man, who immediately recognized his inherent healing abilities. He began an apprenticeship with the shaman, who taught Morteau many strange ancient methods in the healing arts. He also witnessed the tribe's territorial penchant for wars, by which he learned unique ways to use the medicinal arts as a form of inflicting punishment on enemies and prisoners, obviously taking his medical training to a rather sinister side.

Later in his early twenties, Dr. Morteau was discovered by a European anthropologist, while visiting and studying the island's culture. He was fascinated by Dr. Morteau's unusual medical training (himself being a Medical Fetish aficionado!), so he decided to invite Morteau back to Europe to further his studies and perfect his techniques.

Making his next home in Romania, Morteau picked up a
series of new and often surreptitious techniques, the nature of which forced him to keep his studies quiet and out of the public eye. However, he found that Romania was yet another place of unrest and tyrannical authorities, so he fled to California, where he found work with the Medical Toys family, who offer him the freedom to continue his own kinky brand of medical treatment without interruption.

Dr. Morteau, will be appearing from time to time throughout our website and we look forward to adding some of his unique medical methodologies! He is definitely the Mad Scientist and the Evil Doctor who can sends chills, thrills and fears into any unsuspecting patient (as you can see above with Nurse Cindy!)

---


Name that pill!
In pharmacology, all drugs have two names - a trade name and a generic name. For example, the trade name for Tylenol is acetaminophen. Aleve is known as naproxen, and Advil is ibuprofen.

Recently, the FDA has been looking for a generic name for Viagra. After consideration by a team of government experts, it recently announced that it has settled on the generic name of mycoxafloppin. Also considered were mycoxafailin, mydixadrupin, mydixarizin, mydixadud, dixafix, and of course ibepokin.

Pfizer Corp. is about to make an announcement that Viagra will soon be available in liquid form and will be marketed by Pepsi Cola as a power beverage suitable for use as a mixer. Pepsi's proposed ad campaign claims it will now be possible for a man to literally pour himself
a stiff one. Obviously we can no longer call this a soft drink. This additive will give new meaning to the names of cocktails, highballs and a good old fashioned stiff drink. Pepsi will market the new concoction by the name of (Yahoo), Mount & Do.

The long term implications of drugs and medical procedures must be fully considered: Over the past few years, more money has been spent on breast implants and Viagra than was spent on Alzheimer's research. It is believed that by the year 2030, there will be a large
number of people wandering around with huge breasts and large erections who can't remember what to do with them.
---
Institutional Bondage...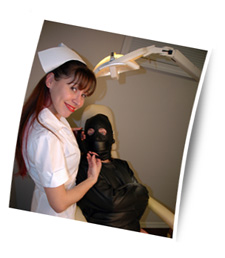 For all of our straitjacket and institutional bondage fanatics, we continue to add even more great products and items to hold you captivated! We now have a leather straitjacket along with our heavy duty actual straitjacket and the PVC vinyl straitjacket... The making of a leather straitjacket requires the highest quality, the most sumptuous and supple leather, handcrafted workmanship par excellence all in a classic institutional design. Perfect for long term sessions, it is amazingly restrictive... no matter what size you are, from tiny to big, small to tall and everything in between! Size 1 fits small (Men's 34-36 or Women's 2-4) up to large (Men's 42-44 or Women's 14-16)
Size 2 fits x-large (Men's 46 or Women's 18 up to xxx-large (Men's 52 or Women's 24)... to see more details or order it (or any of our straitjackets) go to: Institutional Page at MedicalToys.com
---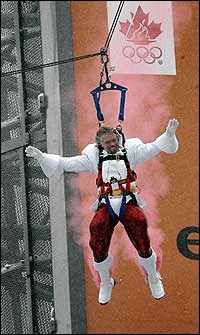 Go Sir Branson!!... spread the seeds of fun and fetish in the open minded spirit of adventure that it is all about!