Nurses, nurses... everywhere!



Between the latest poster for the annual blood drive sponsored by horror movie "Saw IV" and the naughty logo medics at Louis Vuitton's Paris show, nurses continue to get a sexy shot in the arm.

FYI: The "Saw" nurses -- this is the fourth annual blood drive and past posters are collectibles -- all work at Lionsgate, the studio behind the "Saw" franchise.

And it goes without saying, that the vampy lips and crimson nail polish are a genius touch.



Meanwhile, the nurses that Marc Jacobs sent down the runway for Louis Vuitton were also outfitted in retro

uniforms

, with a twist. Models wore a sensual face mask--a dainty black, lace kerchief that barely concealed their red pouty lips -- and vintage winged

nurse caps

.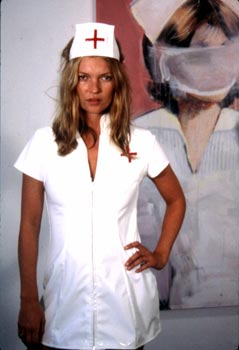 Obviously, we never get tired of the image of a sexed-up, pulse-quickening Florence Nightingale. "W" magazine published a photo of Kate Moss (styled by Richard Prince) in a white PVC nurses uniform...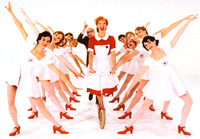 "Yes, Nurse, No Nurse" is a fantasy musical movie born out a European 1960's television program. It's a current popular sub-culture piece and has quite a following in San Francisco, where it was originally launched in 2003 as a stage production. It's loaded with dancing and singing nurses, recounting the adventures of the residents of Nurse Klivia's Rest Home as they combat the efforts of their nasty landlord and evil neighbor to have them evicted.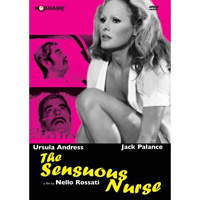 Oh, by the way, for all of you 1970's sexy nurse nostalgia fans, don't forget Ursula Andress as "The Sensuous Nurse" in the 1979 lusty, ludicrous romp. Andress -- perhaps best known as Bond gal Honey Ryder -- wears a short, skimpy uniform that she can't seem to keep buttoned.

New World Pictures, a B-movie production company (which often nurtured talented directors who went on to bigger and better things), had a run of "nurse sexpots" films in the 1970s. The list includes "The Student Nurses," (1970), "Private Duty Nurses" (1971), "Night Call Nurses" (1972), "The Young Nurses" (1973) and "Candy Stripe Nurses" (1974). Although the films do have "plots," they are usually used as excuses to show naked women enjoying tête-à-têtes with their patients.


And even in the world of music, nurses have songs dedicated to them! Like the song, "Night Nurse" by Simply Red...


Night Nurse



Tell her try her best just to make it quick




Woman tend to the sick




Because there must be something she can do




This heart is broken in two




Tell her it's a case of emergency




There's a patient by the name of Mickey





Night nurse




Only you alone can quench this here thirst




My night nurse, Oh God




Oh the pain is getting worse





I don't want to see no Doc




I need attendance from my nurse around the clock




Because there's no prescription for me




She's the one, the only remedy



My night nurse
Only you alone can quench this here thirst

My night nurse
Oh the pain is getting worse
I'm hurt my love

I don't want to see no Doc
I need attendance from my nurse around the clock
Because there's no prescription for me
She's the one, the only remedy

Night nurse
Only you alone can quench this here thirst

My night nurse
Oh the pain is getting worse
I'm hurt my love
And I'm sure, no ,no doctor got a cure

My night nurse
My night nurse
My night nurse



Ahhh... we couldn't agree more! Where would this world be without our nurses?
---
Fashion Emergency




PAGING NURSE BLABLA!


by CAROLINE WEBER, New York Times

Everywhere you look — from Richard Prince's kitschy ''Nurse'' portraits to Keira Knightley's wartime angel of mercy in ''Atonement'' to the white-suited vixens in recent videos for Duran Duran
and Good Charlotte — Florence Nightingale and friends are having a moment. Not since Catherine Barkley, the love interest in ''A Farewell to Arms,'' achieved literary immortality wearing ''what seemed to me to be a nurse's uniform'' has the peaked-capped protector generated so much cultural traction.

Or so much chic.

Inspired by Prince's artwork, Marc Jacobs staffed his spring runway for Louis Vuitton with sexy health providers (see article, left). But if Jacobs was hoping to add Fashion Nurse to Prince's roster of types — Debutante Nurse, Island Nurse, Dude Ranch Nurse and so on — he need only have looked to real life for a role model: meet Akari Moffat, better known as Ako, the Blabla Nurse, who ministers to the ''fashion sick.''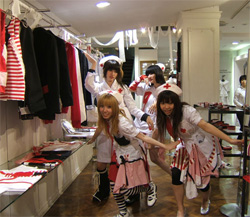 Moffat operates Blablahospital, a cultish clothing boutique in London, where her focus is healing. To this petite, 26-year-old Japanese woman, who greets her ''patients'' in a nurse's uniform and does her ''operating'' in a doctor's coat, fashion sickness is a serious condition. It is a state of boredom with one's clothes and one's life that can only be alleviated by dressing like someone, or something, out of a hospital.

During my recent visit to Blablahospital, a tiny stall in Camden Stables Market, Moffat said her idea of curative clothing dates to her childhood, when accidents landed her in the hospital and left her with a fondness for all things medical. Later, as a design student in Tokyo, she began wearing hospital-inspired garb. In the Japanese context, these outfits had an obvious kinship with the get-ups beloved by the fashion-forward youth of Tokyo's Harajuku district — and associated in this country with Gwen Stefani. (Stefani's backup dancers, the Harajuku Girls, have also been known to dress as nurses.)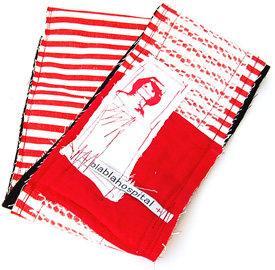 Yet even among her outrageous peers, her medical ensembles, worn with striped Raggedy Ann stockings, always stood out. ''When I dressed as a nurse,'' she recounted with a humor so dry it may not have been humor at all, ''everybody became sick in front of me, saying, 'Help me, nurse!' ''

And so the Blabla Nurse was born, with Moffat bringing her off-the-chart style to one and all, ''from 8-year-olds to 80-year-old grandmums.'' In truth, I can't quite picture kiddies or grannies adopting the Blabla look, best described as Rei Kawakubo and Sid Vicious Getting Naughty in the Sick Ward.

Her patients are mostly punk: young people whose presumed fashion malaise does not mean fashion timidity. In her shop, I was the only customer whose face hadn't been pierced and whose hair wasn't a riot of spikes and horns. Typical was the hedgehog-headed teenager who stopped to browse the Injury Ties. Seeing that the tag on the tie read ''Cure Level: Slight Sickness,'' I asked what ailed him. ''I don't have an injury!'' he bellowed. ''I'm just mad!''

To such sick puppies, Blablahospital offers a list of treatments as long as a waiting-room line: deconstructed nurses' caps emblazoned with a red cross; Arm Plasters (casts) appliquéd with ''blood''-stained bandages; and the aforementioned Injury Ties, which, like the Blabla Injury T-Shirts and Injury Jackets, are adorned with felt crosses, tattered pieces of gauze and/or jagged EKG stitching in contrasting thread. With very few exceptions, the Blabla Nurse's color palette is restricted to ''Cleanliness Hospital White, Bloody Red and Always Mysterious Black.''

But if there's anything mysterious about the Blabla enterprise, it is less the tricolor garments than the mechanisms by which they promote good health. Her pricey prescriptions are exasperatingly vague. A sample Blaba citation: ''Knot nurse's hair with bandages.''

What?

Well, as Moffat elaborated by e-mail, ''Blabla = blah blah blah. When you can't explain and it will be a really long story, you know, 'blablablabla.' It means blabla can be anything.'' That's probably true. Suffering from my own brand of fashion ennui, I recently sported one of Moffat's casts to a dinner party, where my spirits soared at my host's baffled question: ''Why is there a leg warmer on your arm?''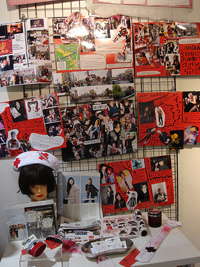 ---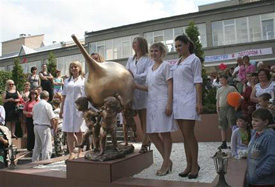 Enema, comrade?
RUSSIA A monument to the enema has been unveiled at a spa in the southern Russian city of Zheleznovodsk. The bronze syringe bulb, which weighs 800 pounds and is held by three angels, was unveiled at the Mashuk-Akva Term spa. The Caucasus Mountains region is known for dozens of spas where enemas with water from mineral springs are routinely administered to treat digestive and other complaints and issues.

A representative of the spa said the monument cost $42,000 and was installed in a square in front of his spa. A banner declaring: "Let's beat constipation and sloppiness with enemas", an allusion to a line from "The Twelve Chairs," a famous Soviet film comedy, was posted on one of the spa's walls.

Sculptor Svetlana Avakina said she designed the 5-foot-high monument with "irony and humor". She added that she modeled the angels on those in works by Italian Renaissance painter Alessandro Botticelli.

MTC editorial: Enemas, the social cure all!

Foot Fetishists... beware of ankles!


TEXAS "Everyone knows what an ankle is," said an official of the association of Texas medical doctors. Not so, said a lawyer representing Texas podiatrists: "You don't have an ankle. The foot actually includes the ankle." A state appeals court in March sided with the medical doctors, but the podiatrists say it's not over yet and that they may continue to treat ankles even though they are licensed to work only on feet.





A word to the wise...


PHILIPPINES Officials at Vicente Sotto Memorial Medical Center in Cebu City, Philippines, apologized in April on behalf of at least six doctors and other personnel for laughing raucously during surgery and making a party video (that was later uploaded to YouTube) of the operating-room removal of a perfume canister from the anus of a male patient.

---
The JBL Sit-on Enema Bag...
"JBL" stands for "Joy, Beauty, Life" which is exactly what it's original creator, Dr. Charles Tyrell believed it would bring when he developed it back in the 1900's.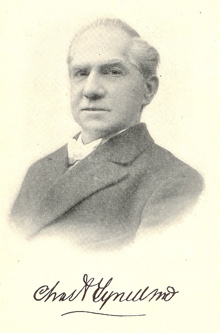 Charles A. Tyrell, born in Britain, came to the United States in 1880. After six years in New York, he suffered an attack of a rare 'paralysis' which resulted in his admission to Bellevue Hospital where his condition worsened.

He was then moved to St. Vincent's Hospital where he was, as he stated, "given up for dead". While 'dying' there he read a treatise by a Dr. Wilford Hall extolling the virtues of the enema for treating virtually anything that might ail one. Tyrell apparently had the tube up his rear in a heartbeat and soon recovered his health.A few years and many enemas later, Tyrell founded Tyrell Hygienic Institute, a company in New York that manufactured and sold enema products for home use. In 1894 he published a book titled The Royal Road to Health.



We sell this newer version of Dr. Tyrell original design.

His unique enema bag

works when one sits upon it, forcing the fluid to shoot through the nozzle screwed into place in the center of the curved shaped bag. It holds about 6.5 quarts, and comes with an adjustable "butt plug style" straight-up shooting nozzle. The adjustable arm (handle) on the nozzle easily controls flow with a twist!

Other nozzles

sold separately.


Available in Red #300-9201 [as shown above] or Black #300-9200 [as shown below].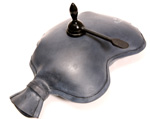 JBL Enema Bag
w/Adjustable Butt Plug Nozzle

Price: $129.95