Nurse Jackie makes it look real...

Showtime's newest addition to the world of TV medical genre programs has got to be one of the most authentic, albeit almost frightfully so!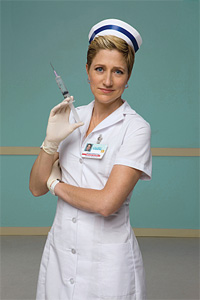 Nurse Jackie [last name: Peyton... hmmm... like "Peyton Place"??] is played by former "Soprano" star, Edie Falco, whose sardonic humor, hard work ethics and intuitive skills carry her through her shifts in the ER, using a little help from her friends: the occasional Vicoden snort delivered in exchange for quickies with her pharmaceutical providing paramour [his name is Eddie] in the hospital pharmacy at lunchtime, while it's closed.

As with most paid cable programming, all of the frank, explicit language, some blood, guts and gore are there. Absolutely perfect for the Medical Fetish aficionado!

In one of the first episodes (the show's original pilot launched on June 8th), Nurse Jackie proves to be an ER nurse doing everything and anything to provide her patients with the best care possible. Whether she's chewing out a young, arrogant, inexperienced doctor for failing to heed her advice, or "permanently borrowing" a wad of money from a passed out Libyan ambassador who stabbed a prostitute [both are in her ER for "related" injuries] then handing that wad over to a pregnant widow [her man was the one who died being treated by the young, arrogant doctor who didn't listen to Nurse Jackie's advice], well... are you getting the picture?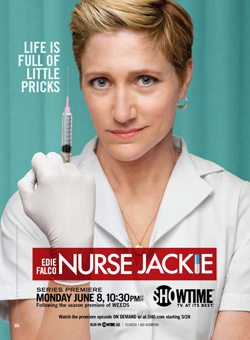 She's ballsie, self-reliant and self-delusional, in an oddly effective way, to say the least. Keeping her aching back in check with a non-stop flow of pain killers (she carefully grinds Vicoden, Percoset or Oxycontin into powders and snorts them or mixes them in her coffee), dutifully handed out by Eddie, Nurse Jackie appears to be making the ultimate sacrifice of

self

for the betterment of all. Her husband is unaware of the nooners with Eddie, likewise Eddie is unaware of the husband.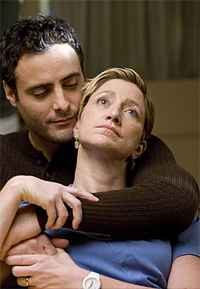 By the way, the husband, Kevin (played by Dominic Fumusa,

above

), is an easy-going, loving father to their two girls and runs a bar and grill! Is he a tad bit younger than her? ... not sure... but for me, that adds even more gusto... go Cougar Jackie!

He can't keep his hands off of her

(whenever she finally gets home from the ER!) which all adds to the twists and turns of Nurse Jackie's daily life. There's a sexy scene in one episode, where Jackie and Kevin go at it on top of some spilled Cap'N Crunch cereal, even though she'll probably need another hit of Percoset or something when the euphoria wears off, from rolling around the kitchen floor.

I've only seen the first few episodes, so far, but there are some developing story lines and even characters which have a vague reminiscence of "Nip Tuck", in that there is more story than actual "on the table" hospital or ER time! Still, I am completely hooked. They have what I and so many other Medical Fetishists crave... the look, the feel, the sounds and the "smell" of everything medical with some hot sexual moments thrown in, like a teaspoon of sugar, for good measure!



NURSE JACKIE

Showtime, Monday nights at 10:30, Eastern and Pacific times; 9:30, Central time.
---

The Stainless Steel Multi-Stim Pleasure Wand
Versatility, unique design, quality and luxury... everything you look for in an adult sex toy, all beautifully rolled into this new multiple stimuli insertable toy. Made with the highest quality new-world craftsmanship, it is built for safety and infinite durability.
Specifications:

1.25" and .75"-1" graduated bulbs, approx. 8" end to end, weighs 12oz.

Packaged in a beautiful sleeved box 5" x 9.5" x 2.75" with fuchsia satin lining
Cast in 316 medical grade stainless steel and hand polished to a mirror shine
Completely non-porous, so they can be cleaned or sterilized by any means
Holds heat and cold beautifully for temperature play
Luxuriously smooth and shaped perfectly to the curves of the body
Suitable for use with any type of lubricant
Get a Fukuoku to add more to the experience with vibration!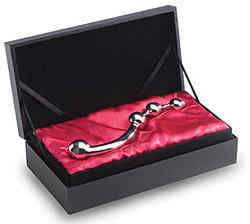 The Stainless Steel Multi-Stim
Pleasure Wand
Item #320-5040
Price: $89.00


MedicalToys.com in W Magazine



They say the clothes make the man. Well, in the latest issue of W magazine, the man in question, Bruce Willis, isn't wearing many.


But look closely: Bruce Willis is sporting latex gloves from MedicalToys.com. Really, just what are these two up to?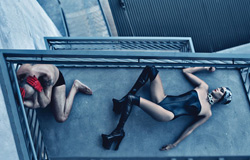 Bruce wearing our
latex gloves
... not much else... we like!
Alexander McQueen boots.
W has a long history of incorporating fetish aspects into their photo shoots. There was the Madonna cover with the grand lady of pop taking a "holiday" as a domme in control of several pony boys. Bruce Willis, Emma Heming, W Magazine, Steven Klein and Camilla Nickerson keep this tradition alive in the latest "Honeymoon Hotel" pictorial. Hell, there's even a very dominant Emma in a Michael Kor leather dress lovingly leaning on an ambulance. "It is such a pleasure seeing our products used in W," Nurse Laural of MedicalToys.com says about those distinctive red Latex gloves. "Especially with such a happy and loving couple such as Bruce and Emma."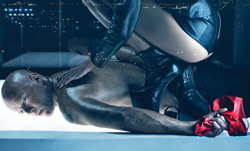 Check out those boots... Nina Ricci!

MedicalToys.com is the original and largest medical fetish site on the web. Not only does the company sell those gloves Bruce is wearing, but it offers a tremendous selection of Medical Fetish products, plus tons of information on how to use them. (Let's face it, not all of us are doctors and nurses!)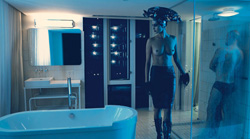 As they did with W's pictorial spread, titled "Honeymoon Hotel," MedicalToys.com provides props for the movie and TV industry. They also make regular appearances to talk about their unique products and write frequently for web, print, radio and TV.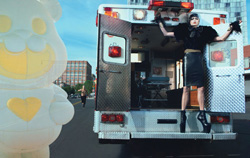 As it seems to be for Bruce Willis and Emma Heming, many couples enjoy a little doctor/nurse fun in the bedroom. MedicalToys.com and medical fetish rock the world once again with a little help from their celebrity friends.

MTC editorial: Thank you, again, W Magazine! Hope to see more our unique medical bondage in upcoming shoots (using our gear, of course!). And a special thanks to Lisa Weinberger, for the great write up [above] and press release!

---


Domo arrigato, Altoids-san - Ichiro Saito, a professor of dentistry at Tsurumi University, Japan, publicly warned that as many as 30 million Japanese workers overstressed by the economy are suffering from such severe dry mouth that the country might be experiencing epic halitosis. [Daily Telegraph (London), 5-27-09]


Missing link moment - A 27-year-old woman in Lexington Park, Md., was injured in March during some "creative" consensual sex play. Her partner placed a "sex toy" over a saber saw blade, apparently trying to create a souped-up vibrator, however, the saw blade cut through the toy and caused serious lacerations, requiring her to be med-evac'ed to Prince George's Hospital Center.

MTC editorial: Like the V-8 juice commercial... "Hey, I could have had a Hitachi Wand!"

Chronic hypochondria -In a study of the last six years' admissions at hospital emergency rooms in the Austin, Texas area, 900 people were identified as using ER's six or more times in the previous three months, and nine specific patients had made a total of 2,678 visits in the six-year period. [Austin American-Statesman, 4-1-09]

Call it as you see it? -The City Council of Vero Beach, Fla., grappling with the question of how much skin should be legally exposed in public, adopted the following definitions (that at least two other Florida jurisdictions use). "Buttocks," for example, is "the area of the rear of the body which lies between two imaginary lines running parallel to the ground when a person is standing, the first or top such line drawn at the top of the nates (i.e., the prominence of the muscles running from the back of the hip to the back of the leg) and the second or bottom line drawn at the lowest visible (sic) of this cleavage or the lowest point of the curvature of the fleshy protuberance, whichever is lower." [Treasure Coast Newspapers, 4-6-09]

MTC editorial: If that wasn't written by a bunch of anal retentive people, I'll eat my thong!
---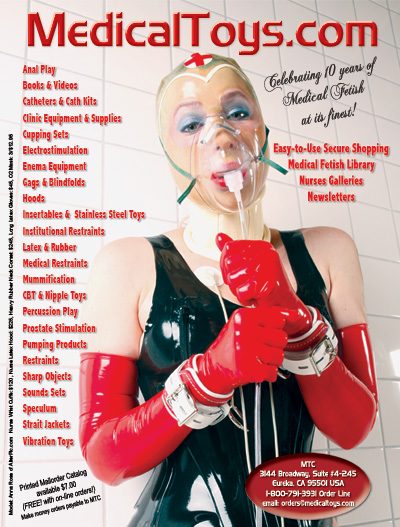 One of our latest ads... in DDI magazine featuring Anna Rose of Alterpic.com... she
loves
medical fetish!