MedicalToys.com's reconstructive surgery
Notice anything different? Most of our long time customers will! It's our new and improved navigation bars at the top and bottom of the product pages. And that's only the beginning of our new improvements.
Over the next months, we will continue to make changes to the website. Some will be cosmetic (oh, like you haven't thought of a little "nip and tuck" here or there?), while some will be functional and others will improve our customer service, all making your shopping trips to MedicalToys.com easier and more fun.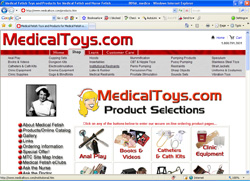 We've also added a Customer Care section and an easy "fill-in" the form for Customer Feedback. So let us know your thoughts about us or what you'd like to see more of on the site or just say you like what we are doing! We're doing it all for you, so let us know that we're doing it right!
By the way, our new name of our parent company is Mosaic Trading Co. (initials are MTC, get it? ... Medical Toys . Com). We're the same people, the same company, just a new name with some fresh new ideas!
So bookmark us, if you haven't already, and watch our sexy transformation unfold!

---

Medical Fetish: Alive and well in Taipei
(article by By Jerri Graham Translated by Picker Chen)

"Nurse! Quick! I need 1,800cc's Vodka Punch. Hand me the Thai Style Sautéed Prawns! Stat!" All right. These words may not be heard in an ER, but they could be shouted out at the DS Music Restaurant on XinSheng North Road.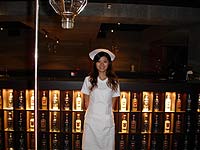 Nurse/waitress at the DS Music Medical Theme Restaurant
This undeniably interesting restaurant is the ideal spot to recuperate after a day at work. The name may imply a theme based around music, but the crutches, X-rays and wheelchairs here tell a different story. While hospital food isn't exactly pleasing unless you're dying, the fare at the medically-sound DS Music Restaurant won't leave you ill but, rather, actually calling out for more.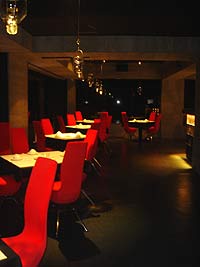 Small tables are O.R. carts and larger tables are hospital beds!
On the night I dropped in, I sat with my friends and within minutes the uniform-clad "nurses" and "doctors" were bringing out plate after plate of succulent Eastern inspired dishes with a bit of kick.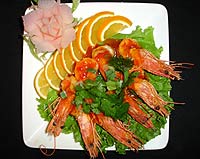 The Thai Style Sautéed Prawns (NT$360) were my absolute favorite and the sauce alone, with its bit of hit mingling with the sweet tanginess of pineapple and spices, was a delight on my tongue. The prawns are large enough that, if you're sharing, you won't feel cheated if you have just one. But, if you have them as a meal, you won't be disappointed.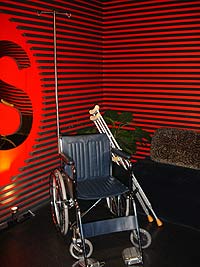 Decor for the medical fetishist
The wide variety of dishes at DS Music Restaurant provides a little something for everyone. Whatever you choose, all can be washed down with the Vodka Punch (NT$500). Served with an IV hanging from the ceiling, this multi-fruit juice-infused cocktail can't be found at your local clinic.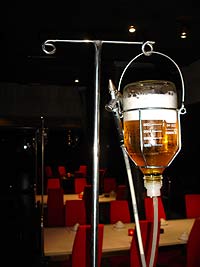 Beer by the I.V.
Theme restaurants come and go, but with excellent food, a fun theme, and the cool decor, this place is hopefully here to stay. In a neighborhood with many traditional-style restaurants, the DS Music Restaurant is like CPR delivered by George Clooney: heavenly.
Website:www.drs.com.tw

---
Return to MedicalToys.com Home
Go to the On-line Medical and Nurse Fetish Shop
Go to the Medical Fetish Library
Museum of Sex In New York with MedicalToys.com
Adding to the exciting changes this year continues to produce for us here at MTC, we have a Medical Fetish Exhibition at the Museum of Sex in New York City! It all started with a phone call from our friend, Katherine Gates (of "Deviant Desires" book fame) and the rest is, as they say... history. We have added another notch to our list of achievements in the world of kink!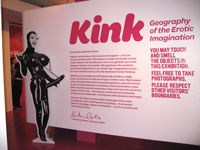 The Museum Exhibit, aptly entitled, "Kink: Geography of the Erotic Imagination" is an interactive exhibit based on Gates' work from her book and her research in the world of all things considered "kinky".

The opening night gala was just tremendous. Celebrities, press and fellow exhibitors gathered for an evening of libation and hors d'ouevres served by fetish role-play dressed "servants". The crowds ebbed and flowed through the carefully mapped out maze of kink and fetish. The Medical Toys exhibit was lined up squarely at the top of the room's floor map.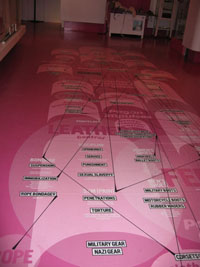 Map of Fetish
(click on photo for larger image)
The map (a template and layout for this exhibition is Gates' highly detailed erotic roadmap which is painted on the floor!), documents her ten years of research. The map serves as both a metaphor and a guide. While it defines the rules and charts the edges of the unfamiliar, it also encourages you to become a tourist. The roadmap includes stops related to Leather, Bondage and Shoe Fetishes and more exotic destinations including Ponyplay, Adult Babies, Macrophilia, Sploshing, Medical Play, Mudlarking, Body Expansion and Furries. Explore the world of kink, fetish and fantasy on a journey through the erotic imagination.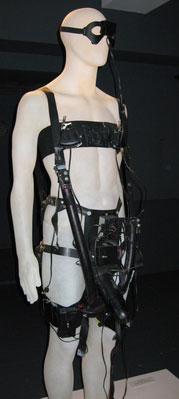 Auto-erotic Bondage-Sex Suit: wired for self-play
Throughout the exhibit (which embodies two floors of the museum!) Our medical exam table, Strait Jackets, specula, and other medical toys are open for "try and see" interaction, along with many of the other fetishes and kinks portrayed. Costumes, props, videos and photographs, original artworks, all contribute to this adults-only playground (designed by Jennifer Kinon of Pentagram Design) encouraging museum visitors to explore and learn about the world of kink and fetish as it explains the captivating effect it holds on the imagination and inspiration of fantasy.
The interaction allows you to handle and examine masks, toys, fetish props, etc. while learning about the larger narrative themes that bind all human eroticisms together, from the most "vanilla" to the most kinky. "Patrons are encouraged to bring cameras and document their journey into this erotic wonderland at specially created photo ops throughout the exhibition. While this exhibition is guaranteed to awaken the senses, it is also designed to remind us that more often than not, fantasy itself is the most powerful means of seduction and can evoke the most powerful of sexual response.", noted Daniel Gluck, Museum of Sex Founder and Executive Director.
So, if you are in New York (or you live there!), be sure to check out the Museum of Sex at 233 5th Avenue, play Doctor or Nurse on our exam table, wrap up in our straitjacket and then let us know how much fun you had!

---


My Vagina
Scientists at Italy's La Sapienza University announced in May that they had, for apparently the first time, surgically grafted a vagina (built with stem cells) onto a woman who had been born without one due to a rare condition.
---
Mega Toys
Backyard play sets can range in price from less than $100 to high-end outfits of $2,000 to $12,000 that would typically include fancy combinations of rock walls, rope ladders, sandboxes and tunnel slides, and maybe a tower with roofs and rotating plastic guns mounted on the walls, according to a May report in Milwaukee's Journal Sentinel. Also available: the King Kong Carl McKee Custom, at 46 feet by 58 feet, featuring towers 16 feet high (price: about $46,000, installed).
MTC editorial comment: Wow! Think how many Medical Toys those parents could could outfit their bedroom with! Now that sounds like play time to us! Kids will grow out of those in a couple of years... but let's face it... a fetish is forever!

---
Say what?
1.) Jonathan Powell, 17, was convicted of sexually assaulting a college student in Iowa City, Iowa, after his DNA was found in several places on her body. Powell explained the DNA by claiming that he had merely bumped into the woman accidentally while jogging and had become so "entangled" with her that he was unable to free himself for about "45 minutes."
2.) Donald Duncan Jr., 34, was convicted of invasion of privacy in Carlisle, Pa., after his wife discovered a hidden-camera video of two girls who were disrobing in a bedroom in the couple's house. Duncan said he had set up the camera because he suspected there were ghosts in the house and wanted proof.
3.) Tiffany Weaver pleaded guilty to having stolen a lawyer's official ID and impersonating the woman in order to gain access to the jail in Baltimore so that she could visit her incarcerated boyfriend, but she denied, through her lawyer, having sex with her boyfriend while they were together. "There was never any sexual intercourse," said attorney Ivan Bates. "There was no thrusting whatsoever."
---
G-Spot enhancement
Los Angeles gynecologist David Matlock licensed his 2-year-old G-spot-enhancing technology to 35 other doctors around the country to help spread the benefits of collagen injections that swell the so-called Grafenburg Spot (a pleasure-registering zone which is tiny and hidden). With the patient's help, the doctor guides the 3-inch needle to the most promising location, and one injection renders the G-spot the size of a coin. Many patients claim their sex lives are greatly enhanced, but no peer-reviewed research has yet been done.
MTC editorial comment: Ah, science! Now if they could just enhance that memory section of the brain!