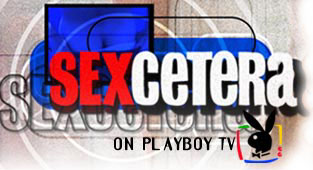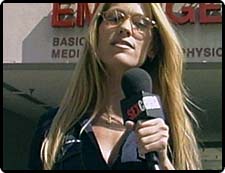 "...Sam Phillips dresses
up as a nurse and dons the latex.
Get a physical at

the

naughty online doctor's office at www.medicaltoys.com."
- from Playboy's Sexcetera Website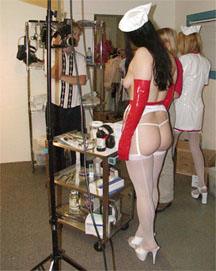 The show, called "Playing Doctor" had its premier airing on Monday, November 13, 2000 and, as a matter
of fact, was Show #13!
It aired all throughout the month of November and December! And now, thanks to the wonderful world of
the web... Playboy had the video clip in its archive section.... and for the last few years it has been featured worlwide on their "Best of Sexcetera" program.
So, again, thanks to Playboy, we can bring the fun we had with Sam Phillips and the Sexcetera crew to your computer screen... ah, the joys of technology!
Playing Doctor
November 2000

Sexcetera reporter Sam Phillips puts on the latex for her romp as a randy nurse at a medical clinic equipped to provide sexual healing. During her rounds, Sam encounters some titillating treatments. Vibrating wands, metal tongs and straitjackets are all part of the prurient healing process. Isn't it time for your checkup?



Thanks again for all of your continued support!
-Keeping you in the kink... Nurse Laural+
and the Medical Fetish Nurse Staff of MedicalToys.com


About Medical Fetish | Products Online Catalog | Gallery | Links | Ordering Info/Contact | Medical Fetish Library
Special Offer | Newsletter | Site Index | Home | eMail
MedicalToys.com all rights reserved. Copyrighted 1998-2011