Who needs Halloween? We have Cosplay!
"Cosplay" is a Japanese anime fan term for Costume Play. Here in the U.S. and many other Western cultures, this sort of ritual would be called a Masquerade or Costume Party, which now covers the Sci-Fi and fantasy conventions of masquerade including all genres of costumes from medieval to military uniforms, science fiction, super hero and even pagan (fairies, witches, etc.) and other fantasies and fetishes in between.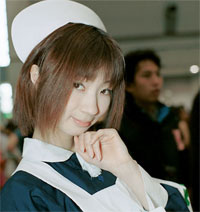 Dressed as Nurse Nanako, an famous Anime Nurse.
Cosplay is basically a time for fans to dress up in their favorite garb or as their favorite character and have a bit of fun. Most Japanese cosplay conventionists or costume party goers take this very seriously, however, so they not only dress as their favorite character, but also take on the character's nature. In other words, while you're in costume, you must be the character, in thoughts, words and action.
Cosplay has carried over to the US and in Europe as the costuming of Japanese characters, from anime, manga and gaming. The term is used by anime fans to distinguish it from other types of masquerade (Sci-Fi, medieval, etc.), much in the way that the word otaku is used by anime fans to describe themselves, yet in Japan otaku refers to all kind of obsessive fandom (fetishists, too!).
Western cosplaying is as old as Western anime fandom. For approximately 20 plus years, U.S. anime fans have been dressing up as their favorite anime characters at Sci-Fi conventions. This costuming heritage grew with the emergence of separate anime conventions in the mid to late 80's. In 1990 Project A-kon, in Dallas, Texas, the first continuous anime
convention featured a masquerade. The next year, AnimeCon 1991, due to fan pressure, conducted a masquerade that included the Japanese Cosplay Guests of Honor. It was so popular that it has become a staple of anime cons following ever since. Nowadays, it's inconceivable that a convention not run a masquerade.


And as time goes by, the cosplay costuming continues to be more and more sophisticated. From the earlier conventions, which featured human characters only, masquerades now feature very unique non-human characters with exquisite detail to their intricate costumes. One such genre is the mecha [machine] costume. These "characters" are machines or "droids" which may or may not have any human-like "parts", yet the cosplayers have developed an incredible likeness with their costumes. Many, many hours (days, weeks... months?) of hard work has produced incredible "living replicas" of such mecha as Gundams, Valkyries, Ingrams and Junchoons. [Believe it or not, there is a human inside the mecha costume at the beginning of this paragraph!] Other non-human characters, such as the furry "cute and cuddly" Totoro or Ryo-oh-ki, are imaginatively re-created in fantastic costumes for cosplaying.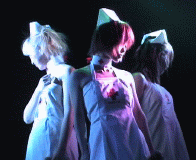 Nurses and the Medical Fetish genre are very big in cosplay. Many of the Japanese anime characters are nurses or doctors. Medical themes run the gambit from the sweet demure ingenues to the sultry vixens and back again! The doctors are characterized in every form, from the bumbling oafs to the degenerated doc or mad scientist. In the U.S. the plethora of medical TV shows creates another venue for the imaginative cosplayer.
For those of you who have not yet discovered our Costumes and Outfits section and are searching for that perfect Nurse, Doctor or Surgeon , even Institutional Patient ensemble for your next Cosplay (no need to wait for Halloween anymore!) party! If you need to locate your nearest cosplay event, there are quite a few websites on the web, just search on Google.com under "cosplay" or "anime con".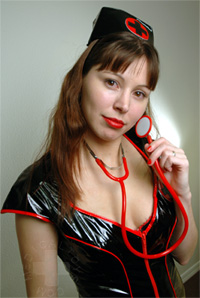 Meet Nurse Cindy...
Many of you may have seen some new pictures throughout the site of Nurse Cindy, recently and wondered, "Now who is that Nurse?"... well, you know the routine, dear impatient patients, we had to wait for the next MedicalToy.com Newlsetter to make the grand announcement!
We now formally introduce you to our newest Nurse... Cindy! She's 100% California born, raised and educated, so it's no wonder she has such an open mind and heart! She loves music [Evanescence, being her current all time fav], art ...she's a very adept artist! ... jewelry making, hanging at the beach or fetish gatherings, anime and comics and sunny days. As she can afford them, she told us she's starting a collection of corsets, she absolutely adores them! And she looks great in them, too! Her favorite bumper sticker: "Looks tight! ... corset is!"
Well, based on that description it's quite clear we have found yet another perfect match as a member of our staff, here at MedicalToys.com...welcome, Nurse Cindy!
---


"Concrete enemas"
story found by Chuck Shepard of "News of the Weird"

The Concrete Enema: in fact, it's one of his [Chuck Shepard] all-time favorite stories which he found in a medical journal article written by emergency room doctors. It's probably best that we let him tell it:

"A guy–I don't want to say walked in–but he actually sort of waddled into the emergency room one night. He had been complaining of rectal pain, and it turns out his boyfriend and he had had a little bit too much to drink, and they thought it would be a good idea to feel the sensation of concrete hardening in this guy's rectum. So they got a concrete mix and a little kitchen funnel. This is a perfect example of an incredibly bad decision. There is some point in that process of putting the stuff in with the funnel that the guy that's receiving all this has got to realize that things are going to get a lot worse before they get better. This stuff is only gonna get hard, and once it gets hard, you're gonna be in an awful lot of trouble."

Fortunately, doctors were able to remove the five and a half inch-long, concrete mold.

Note from the Editor: Hey, guys! What part of "safe and sane" did you forget? -NL
---
New Medical Toys: The Thai Stick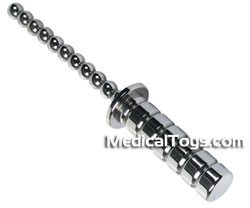 Another new one in from England... from our new stainless steel insertable collection, this unusual anal or vaginal insertable steel device with repetitive stainless steel balls... Made of very heavy solid
316L surgical stainless steel, the stem consists of ten 16mm (approx. 3/4") fixed balls totaling 160mm (approx. 6.5") with a solid stainless steel handle of 30mm (approx. 1.5" x 100mm (approx. 4"). So the overall length is approx. 260mm (10.5") and when we say heavy, we mean it! This Thai Stick is a devilish toy weighing in at over two and a half pounds (785g)! Warm it or chill it for an even more startling effect! Made to machine precision and perfection, this is one of those toys you'll enjoy for a lifetime!

MedicalToys.com Stainless Steel Thai Stick