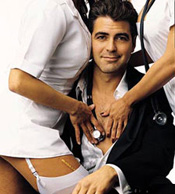 Sex for Anti-Aging...
For great health and other anti-aging benefits, sex is just about as close as it gets to the "au-naturel" fountain of youth. Regular intercourse can cut the chances of a heart attack or stroke by up to half, increases antibodies that boost the immune system, improves bladder control and regulates intestinal contractions, releases minerals that prevent tooth decay (much more fun than flossing!), sharpens the sense of smell and reduces the risk of prostate cancer. Let's face it, keeping sexually active can increase both the length and quality of your life.

But isn't it ironic that sex, this elixir of youthful health and vitality (something we all desire) is so often the very thing we never have enough time or energy for? Well, folks, that is the irony... the very reason you may be too tired to have sex, is because you are not doing it enough! Just as with any physical work-out routine, if you don't make the effort to do it, you're not going to achieve the benefits and rewards.

Simply taking the initiative to walk into the gym and start working out, immediately releases chemicals in your brain,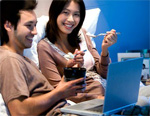 sending messages to the rest of the body to increase your energy level which ultimately helps you "get going". A similar reaction happens when you turn off the T.V. and/or say no to that second bowl of ice cream, and decide to have sex, instead.


We know aging is a natural process, yet we also know that stress and poor health will accelerate that process.
Science has studied the effect of stress with startling findings about its affects on the human growth and aging glands, particularly the hypothalamus, commonly referred to as the "Master Gland" (...hmmmm!).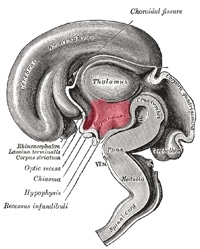 Shaded area is the hypothalamus in the brain.

The hypothalamus controls the hormonal release processes of all other glands in the body. The more stress, the more this gland operates out of balance, sending hormonal levels on a dangerous roller coaster of multi-gland mal-functions, depleted energy levels and eventually, serious illness. Sex offers generous doses of endorphins along with stress-relief, to help keep that hypothalamus in check and happy. We always want to keep the Master happy...

Turn Back the Clock with Sex

Aging changes both the physical body and psychological mind, which ultimately effect our sexual vigor. From puberty to middle age, it feels like we have an over abundance of energy for sexual activity. There is a sense of fullness and vitality, a never ending supply of lust and libido. But as we age, that robust urgency seems to "slow down" and what appears as a loss of interest in sex, may be more accurately aligned with the loss of energy or the loss of hormones that "feed" that desire. In some cases, the "slow down" is directly related to an illness or medication that treats an illness. However, just like stress, aging does not need to be the reason we "throw in the towel", giving up an active sex life.

Sexual activity is not only a fantastic exercise, but it rejuvenates. Just being aroused can heighten heart rates and more than double a person's pulse, burn calories and even tightened abs! Indulging the libido can also improve posture and increase testosterone production, which strengthens bones and muscles.

Orgasms release a fury of hormones, regardless of one's chronological age and along with that, those wonderful endorphins! Similar in chemical structure to morphine, endorphins can relieve pain, control the body's response to stress, and even improve mood and alleviate depression.

So with every sexual encounter, adrenaline releasing bondage session or even private moments of self-loving masturbation, the body and brain enter a dance of chemical and sensual euphoria that quells the effects of aging.




Boost the Libido Regardless of Age



The reality is, aging is inevitable. However, through the aging process, we are offered the opportunity to enjoy sex with the wisdom derived from our life-long experiences. The lines on our face or the pages on a calendar should not dictate sexual satisfaction. If you are younger, keep healthy and fit, so that, as you age, your current sexual abilities won't be compromised by too many cheeseburgers, beers and "recreational drugs". If you are older and witnessing the waning of your libido, pay attention to your diet (high cholesterol clogs the veins and depletes blood flow!), get some physical exercise daily, keep the alcohol to a minimum and if you smoke cigarettes, one word: QUIT! Anything that keeps the lungs clear, heart pumping regularly and blood flowing freely through your veins and capillaries will make your sex life ageless.
---
Special... 15% Off Everything
We are currently having a
15% off everything
sale, so take advantage of it , while you can!
Just put your order in the secure shopping cart (click "Add to Cart") and it automatically applies the 15% off!
It is a limited time offer... don't miss out on the savings!!


Like our Electro Anal Starter Kit ...take an additional 15% off our already low price offer! Save another $63.87!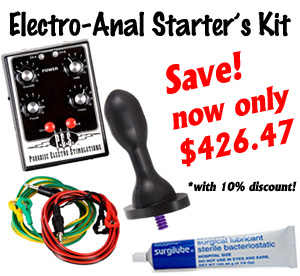 New to Electro-Play?
Take advantage of this great offer! This kit has everything you need to start an anal adventure you will love... over and over again! The double connector Electro-flex
™
anal plug electrode is the perfect size ( 1" wide X 4" long). It also includes the Power Box, 2 sets of leads, A/C adapter, Lube Shooter and Surgi-Lube and instructions.

Electro-Anal Starter's Kit
Item #200-9005
Price:
$471.80
$425.80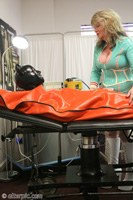 Anna Rose becomes Nurse Laural's Lab Mouse for Testing


Anna Rose of
Alterpic.com
has always been fascinated by Medical Fetish. Along with her over-the-top fetish for all things latex and her exquisite equestrian enthusiasm (
visit her at KinkyPonyGirl.com
), Anna loves electro-stim play and the unlimited
institutional bondage
scenarios, we have created here at MedicalToys.com.
After taking Anna and her Master on a tour of our facility and clinics, she hinted about trying out some of our equipment. "I always had this fantasy of being someone's guinea pig... that they could do all sorts of experiments on me in a lab or something!" She was so excited, she grabbed one of her suitcases and pulled out one of her favorite
latex hoods
, "...see it actually has 'mouse ears'!"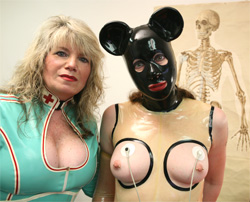 Nurse Laural & Anna Rose, the Lab Test Mouse
Well, that's all we needed see and hear! The rest of the afternoon went into to setting up an elaborate "Test Mouse" medical play session, that included using our huge hanging Octagon Cage, where she would be kept and fed (cheese, of course.) in between "testing" and the main clinic, where a series of tests would be performed on her.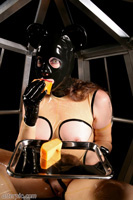 Anna Rose in the Octagon Cage
enjoying her cheese.
She was a naughty little mouse, though; she would not stop playing with herself in the cage! This was a concern because it could skew the results from our tests. We wanted to assure accuracy of the EKG, oxygen levels, pulse and blood pressure readings during the "experiments" in the clinic.

After a few "corrective procedures" to curb her masturbation compulsion, we finally got to the clinical experimental stage of the session. We decided on an observation of her responses to sensory deprivation, using our latex inflatable body bag on the gurney. This would offer a true test of her endurance. Once she was zipped inside the bag, we began the inflation process, which is extremely disorienting as it rises and expands, slowly filling the entire length and width of the bag with air from the compressor.
Anna's eyes grew huge and she was genuinely frightened by the sensation of buoyancy. Later she told us (we had her gagged for the test, of course) that she felt like she was floating off the gurney, and feared falling on the floor (about a 3 1/2 foot drop). We laughed and said she would have just bounced!
The fully inflated bag squeezes every inch of the body in a tight, yet comfortable compression. Nurse Laural rocked the encased Anna back and forth which increased the disorientation for Anna.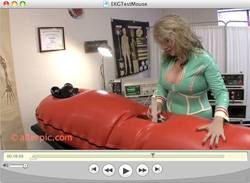 Then we continued the sensory overload by inserting a three way
Magic Wand
vibrator attachment through a strategically convenient opening in the bag. One part of the attachment is for insertion deep into the pussy, hitting the
G-spot
. The second portion inserts into the ass, stimulating the rectum and sphincter muscle. The third area contains soft rounded nubs that stimulate the clitoris. Needless to say, in very short order, our little "Test Mouse" Anna was moaning and bobbing her head about ( that's the only thing that could move!) as her eyes rolled around, opening wide and then closing tightly only to pop open again with a look of delirium. The EKG machine, pulse and blood pressure monitors were sounding off their alarms, as she shuddered into an orgasm.
Before the full testing procedures were completed, she had 6-7 more orgasms, her blood pressure soared over 160 and her heart rate, oxygen counts and pulse were off the charts!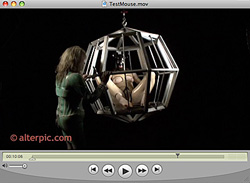 We deflated the bag and slowly removed her, watching her closely so she wouldn't faint or fall. When she gained some of her strength back, we walked her down the hall, put her back in the Cage, rewarded her with some cheese and fresh water and watched her fall into a peaceful sleep.
For some great pictorials and videos from this day, see Anna's website http://www.alterpic.com. (Yes, it's a paysite, but she deserves it!)
---

Stainless Steel Multi-Stim Pleasure Wand

Versatility, unique design, quality and luxury... everything you look for in an adult sex toy, all beautifully rolled into this new Pleasure Wand created by Njoy. Made with the highest quality new-world craftsmanship, it is built for safety and infinite durability.
Yes, it's perfection for so many reasons and uses. It is great for playing when you are alone or using on a partner. Male or female, it has whatever you need: G-Spot or prostate stim, anal stim or vaginal stim!

Specifications:

1" and .75"-1" graduated bulbs
Approx 8" end to end
12 ounces
Packaged in a beautiful sleeved box with fuchsia satin lining*
Cast in 316 medical grade stainless steel and hand polished to a mirror shine
Completely non-porous, so they can be cleaned or sterilized by any means
Holds heat and cold beautifully for temperature play
Luxuriously smooth and shaped perfectly to the curves of the body
Suitable for use with any type of lubricant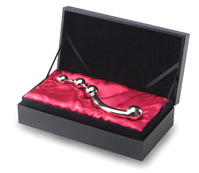 *Gift Boxed, included