Medical Toys Nurses are enema freaks!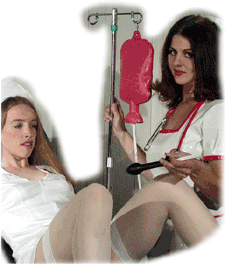 Yes, indeed-ie! We have the straight poop here, folks! We now have a large collection of enema toys and it continues to grow! We have become enema freaks! The Double Balloon style (ENDB2) double baloon with its two pumps is one of our absolute favorites. For years we have searched, high and low (in and out) for them at a good price from a reliable source. It was one tough nut to crack, let us tell you that! Finally, we've found them and they have inspired us to find more even more unique enema and anal toys.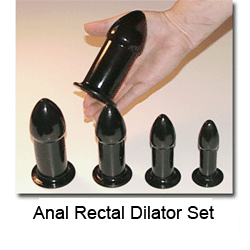 We've just added an entire collection of enema nozzles(ENTP), enema tips set(ENTIPS) and a full 26 oz. rubber syringe douche (BULB26). We'll be adding a shower attaching enema nozzle system. And we continue to add butt and anal toys, such as the Anal Dilator kit (ADIL) and the metal butt plugs with a flexible rubber section designed for long term play. It's so easy to wear you may forget it's there! <evil grin>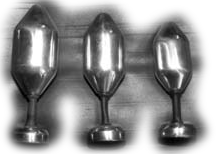 Our inflatable butt plug (ENIBP) enema nozzle will add a new sensation to the old enema kit, our original enema bag (EN1). Hang it all on our handy and popular chrome I.V. Stand (IVS) and wash those cares and troubles away! <another evil grin>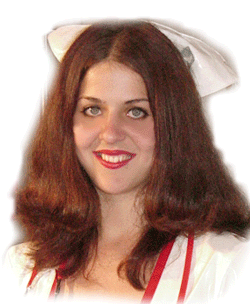 Introducing Nurse Patricia...

Our newest member of the staff reported to work eagerly. Nurse Patricia we welcome you! We have once again been so fortunate to find a fetish nurse who shares our devious desires! She wears her PVC Nurse's uniform with pride and passion... she loves "shiny stuff". She's quite handy with mummy bondage and the new Mummy Vetrap we have, but her absolute favorite is the rubber mummy bondage wrap! But, of course!

Nurse Patricia is a part time student, also. And reading is one of her favorite pastimes. Ivanna and Patricia are friends, also. They are really adding to the family like atmosphere here at Medical Toys.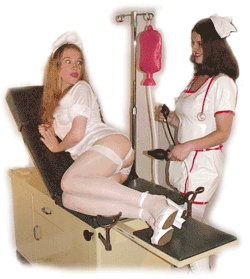 Keep checking throughout the site, the product pages, the gallery, etc. for more beautiful pictures of Nurse Patricia! She is just another gem that shines brightly in the collection of precious gems called our MedicalToys.com Staff ...and it continues to grow!

By the way, Nurse Patricia is pleased to answer your email, her direct email is NursePatricia@MedicalToys.com